Statistics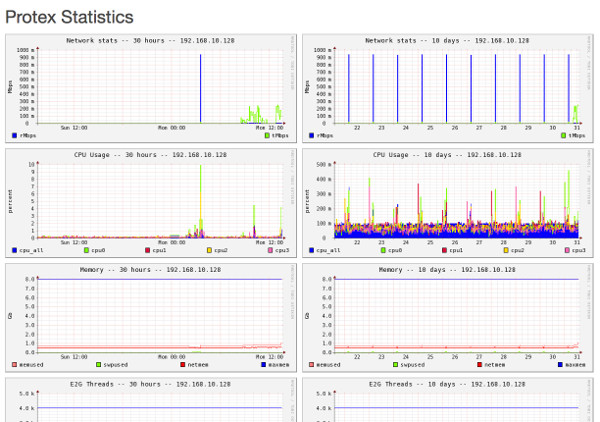 This screen provides an interface for viewing various server statistics. There are two columns of graphs for 30 hours and 10 day output. The parameters logged are:
CPU %: On systems with multiple cores each is logged as a separate line. The average CPU percent usage is logged as a solid area graph.
Memeory %:

maxmem: either the maximum physical RAM or the maximum assigned to a Virtual Machine
memused: total memory being used
netmem: total memory less the memory buffers
swpused: total Swap memory used. This should stay at about zero. A rise much above zero is an indication that more RAM is required.

Network (Mbps): transmitted (tMbps) and received (rMbps)
E2G Workers:

pmax: the maximum number of workers allowed for this amount of RAM
pchildren: the number of e2g processes currently running
pinuse: the number of e2g processes actively serving requests

E2G Worker Births/Deaths: workers serve a limited number of requests before being killed off. New processes are spawned as required. This graph gives some indication of the level of churn.
Connections: the number of connections per second.