Setup NAT rules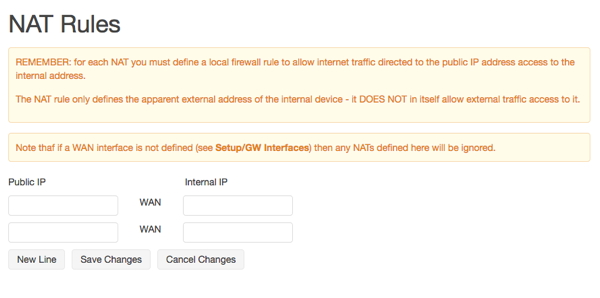 This interface is only available on Protex servers with certain configurations - in particular when it is being used as a gateway.
Enter a single IP into each field - one for the Public IP and one for the local/internal IP.
Take note of the warning in the boxes: (1) you must have a WAN interface defined and (2) this rule only defines the external address of the WAN interface it does not itself provide any access to the internal IP. For that you must set up a local firewall rule.
You can add mulitple NATs by clicking on New Line. To delete an entry just blank out the two IPs in the rule you wish to delete. Click Save Changes to confirm the new set of rules.
To make the changes live you will need to do a Protex Hard Restart which will cause some service interruption or select Apply Changes instead and the changes will be activated overnight.